Features
Modular and scalable, our thermal batteries can be connected in series or in parallel to increase heat storage capacity
Flexible orientation with plumbing exits on three sides
Market-leading 10-year warranty on the heating element
Protected against legionella risk
No mandatory annual maintenance
High flow rate mains pressure hot water
Ultra low heat losses – up to 4x lower than a conventional cylinder
Dimensions
There are four different models: the Thermino ePlus 70, ePlus 150, ePlus 210 and ePlus 300.
They are in litre-equivalent sizes for easy comparison with traditional hot water cylinders.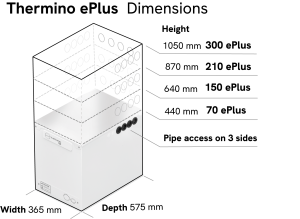 How Thermino ePlus works
Saves space
Thanks to the highly energy dense Plentigrade phase change material, Thermino ePlus is up to 4x smaller than the hot water cylinder it replaces.
Saves money
Connected to the grid, Thermino ePlus can shift demand to off-peak hours. And when combined with an off-peak tariff, the battery helps save money too.
Solar PV ready
Add the Optimino ePV key and make use of free solar electricity, which can economically pre-heat water for boilers.
Thermino ePlus heat batteries are available to order from our network of installers and approved stockists if you are a homeowner or by contacting Sunamp if you are a housing developer and social landlord.